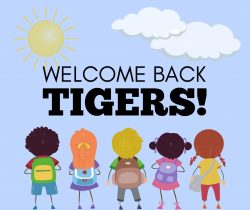 Dear Santiam Students and Families,     
It's back to school time and we can't wait to see each and every one of you!  We have been working hard to make sure everything is ready for your return. I am happy to report that the building is clean and our classrooms look spick and span! The only thing we are missing are the fantastic students of Santiam!  As we near the start of school, below are a few quick things to think about. 
Kindergarten Orientation
Kindergarten Orientation will be on August 31st from 6 pm to 7 pm. Students will have a chance to create a project, take a school bus ride, go on a scavenger hunt, and eat ice cream! Come hear about what to expect and how to prepare for the upcoming school year. 
Open House 1st-5th Grade
Stop by on September 1st from 6 pm to 7 pm. Meet the teachers, check out classrooms, and say hello to the new principal, Ms. McGinnis. Class lists will be posted on the front doors to help students and families know where to go and who to greet.  
School Hours
Student Arrival: 7:40 am – 7:55 am
Breakfast Served: 7:55 am 
Tardy Bell is at 8:00 am
Classes begin: 8:15 am
School Ends: 3:20 pm
Free Breakfast & Lunch for ALL Students
We want to help make sure that all of our students have full bellies and are ready to learn when they start school each morning and throughout the academic day.  Thankfully, this year we qualified for a program that allows us to offer free breakfast & lunch to ALL students.  Breakfast will be served inside classrooms from 7:55 am to 8:10 am. Lunch is scheduled between 11:30 and 12:25 based on students' grade level. Even though these meals are provided at no cost to all students, if families typically qualify for free and reduced lunch, we encourage them to stop by the office to fill out paperwork. We will be able to use that information to provide additional services and programs as needed. 
Bus Transportation
First Student, Inc. provides bus transportation for Santiam Canyon School District  If you would like transportation for your students and have not already registered for this school year, they can be reached at (541) 327-9654.
Communication
Fostering a strong connection between home and school is important to us.  Here are some ways you can stay up to date on what is happening in and around Santiam Elementary:
School Spirit – Go Tigers!
To show our Tiger pride, we wear our school colors.  Our first School Color Day is Friday, September 10th.  If your student has a Santiam Elementary T-shirt, this would be a great time to wear it.  If they don't, it is ok…just wear RED, BLACK or White! 
Back to School Clothing and Supplies
When shopping for school clothes, remember that clothing needs to allow students to learn, run and play without exposing their undergarments, bellies, bare chest, or backsides. If your child prefers flip flops or sandals, be aware that our playground has bark. Splinters and injuries happen much more often when students wear open toed shoes. Students also have PE every day this year – Hooray! So sneakers or tennis shoes are a great choice for school. Students also need weather appropriate clothing. When the skies are grey, boots and jackets keep students dry and warm. When the sun is hot, light t-shirts help keep them comfortable and cool. 
Through a generous donation, all student school supplies are provided. Students only need to bring their own backpack. No backpack? That's ok. Let a teacher know and we will provide one.
Masks and Health Requirements:
At this time, masks are required for all individuals who enter the Santiam Elementary Building. We know that there is much concern surrounding the requirement to wear masks in schools. However, our focus at SES will always be on student learning and growth. Wearing masks and complying with state requirements allows us to provide in-person, quality educational instruction for your child. Thank you for helping us serve our students.
Important Dates to Remember:
8/31 Fall Kindergarten Orientation, 6-7pm

9/1 Open House grades 1st-5th, 6-7 pm

9/7 First day of school grades 1st-5th, 7:55am- 3:20pm

9/10 School Day- Wear your school colors RED, BLACK, and White!

9/13 Kindergarten First day 

9/17 No School

9/24 No School- Teacher Inservice
We are looking forward to seeing you on Wednesday, September 1st for our annual Open House or on Tuesday, September 7th when all students return to school. In the meantime, if you have any questions or need any assistance, please don't hesitate to give us a call, stop by, or drop us an email. Enjoy the rest of summer!  It is going to be a GREAT School Year. 
Sincerely,
Corrine McGinnis
Principal 
Santiam Elementary School
PO Box 198, Mill City, OR 97360
450 SW Evergreen St., Mill City, OR 97360
Phone: 503-897-2368   Fax: 503-897-4034